Sales productivity is something of a buzzword in the sales community – a concept managers understand they must improve, but have a hard time really defining.
Is it simply measured by high conversion rates? Gradual improvement in the bottom line? The number of calls made per sales rep on the team? Consistently hitting your business sales forecast? Or, perhaps, a combination of them all?
The problem is, before you can improve something you must first be able to categorically define what it is. So, with that being said…
What is sales productivity?
In its most basic form, sales productivity is the output that can be quantitatively measured either individually (per sales rep) or of the entire team.
To give you an example, let's imagine you are the area sales manager for a medical device company. You have a team of 5 outside sales reps spread out over as many different territories, generating revenue from new business acquisition from recently opened hospitals.
This is their generated revenue report from Q2: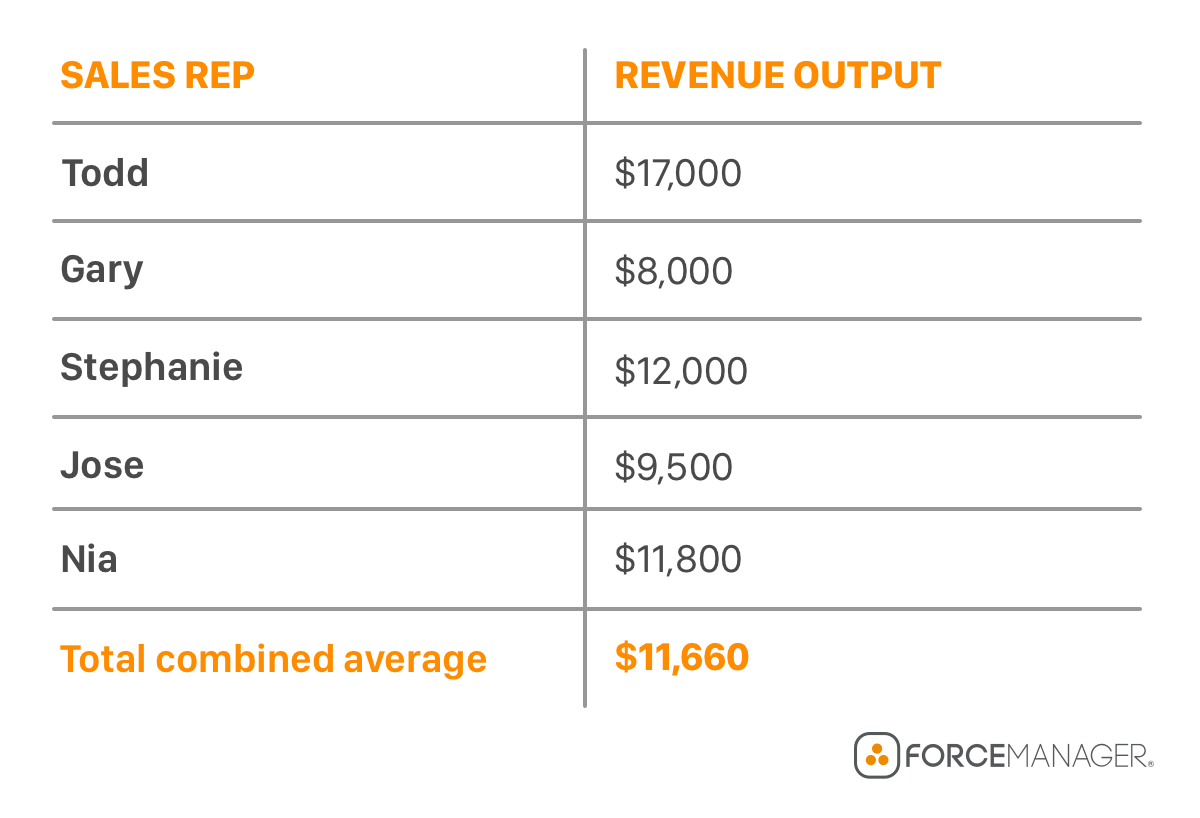 As you can see the average revenue generated per rep over the quarter ranges from $8000 – $17,000
Therefore, to obtain the team's sales productivity figure, it's just a case of averaging out the revenue generated by the entire team, which in this case comes out at $11,600.
Now while it might be simple to calculate your team's productivity, to increase it we must understand exactly what make teams productive.
As it so happens, sales expert Jason Jordan has kindly done the leg work for us and put together the following formula: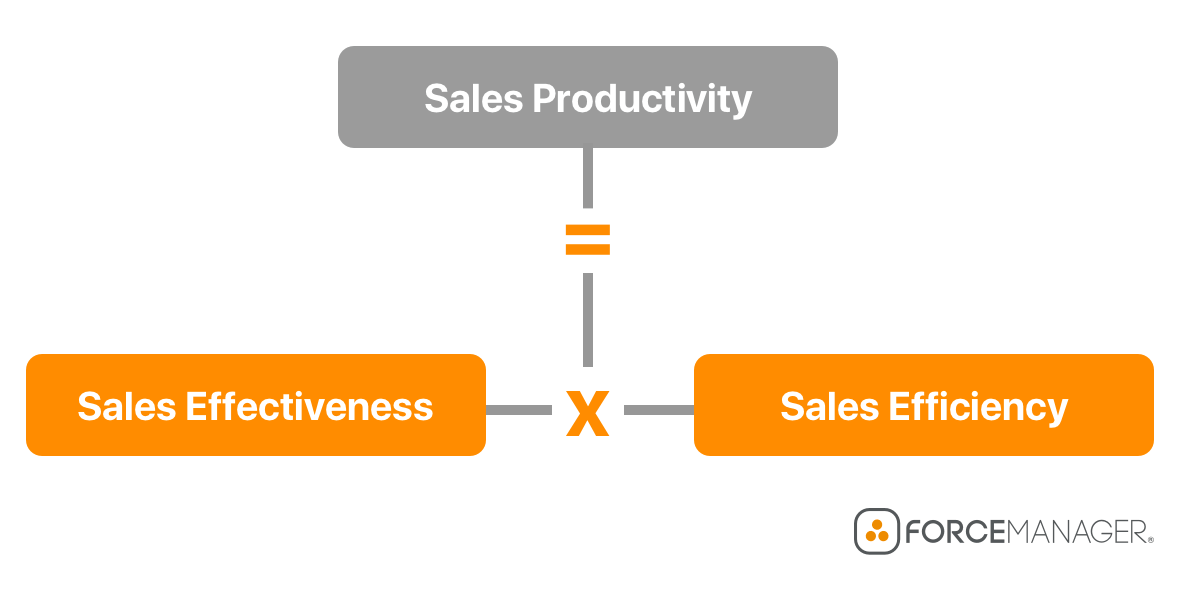 Jordan's argument is that sales productivity is the sum of your team's efficiency multiplied by its effectiveness.
What exactly is sales effectiveness and sales efficiency? I hear you asking…
Well sales effectiveness refers to a salesperson's ability to perform a certain task whereas sales efficiency is about how many tasks they could perform within a given time-frame.
To give you a relevant example, your field sales rep's effectiveness could be determined by how many successful face-to-face visits they conduct with prospects – success being measured in conversion rates, sign-ups, number of follow-up meetings booked etc.
Their efficiency, on the other hand, would be how many face-to-face visits they are able to conduct within a given week, perhaps both with prospects and existing customers (remember the benefits of customer retention!)
Strategies to improve sales productivity
Now that 1) we have a solid definition of sales productivity and 2) have a formula for improving it it's time to look at some of the available strategies.
Most of the ideas I'm going to propose to you focus on sales enablement.
Field managers often confuse sales enablement as simply providing their outside reps with some form of mobile sales technology. While that's key (we'll get into more of that later) sales enablement actually refers to everything that "enables" sales reps to be more effective and efficient.
That includes things such as:
Mobile sales technology

Product training

Sales coaching

Setting goals

Efficient sales processes
You may have heard that you can simultaneously work on sales efficiency and sales effectiveness but I want to dispel that myth right here and now.
Effectiveness is generally about completing a skill correctly. Efficiency is about doing things faster.
If you've been involved in sports you are going to identify the problem immediately.
When learning a new skill coaches will always get you to slow down and focus on what you're doing. They may even break the skill down into smaller, bite-size pieces.
Once you've mastered the technique for this given skill the coach then starts to speed things up.
Sales is no different. I mean, if you're outside sales reps are doing things wrong, improving their efficiency first only means they are going to be doing things wrong, but faster, which is no good at all!
Therefore it's considered better to start with strategies that focus on effectiveness.
Sales product training
Improving sales productivity is the primary goal of all great sales managers. However, if your team lacks a critical understanding of your company's products and services you could be the greatest sales manager out there, but I guarantee you'll be walking out the front door quicker than it took you to read this paragraph…
That's why product training is a key strategy for improving sales productivity.
The biggest problem with most product training is that focuses on "features" rather than "solutions". Now that's helpful in getting your team up to speed on what they're selling, but it doesn't help them connect with prospects.
Good training encourages your reps to answer some of the following questions:
What customer pain points does our solution solve?

What is the root cause of those problems?

Who typically suffers from these problems?

How do we capture a prospect's interest?

What are the most common objections we are likely to face?
Of course I could go on (there are a million and one questions you could potentially ask) but you get the idea.
Another good activity to try is tasking your field sales team to build a buyer persona.
For those who haven't come across the term before, a buyer persona is a fictional character who represents your company's ideal customer.
The reason for creating your buyer persona is to make it 100% clear to the sales team who you're selling to.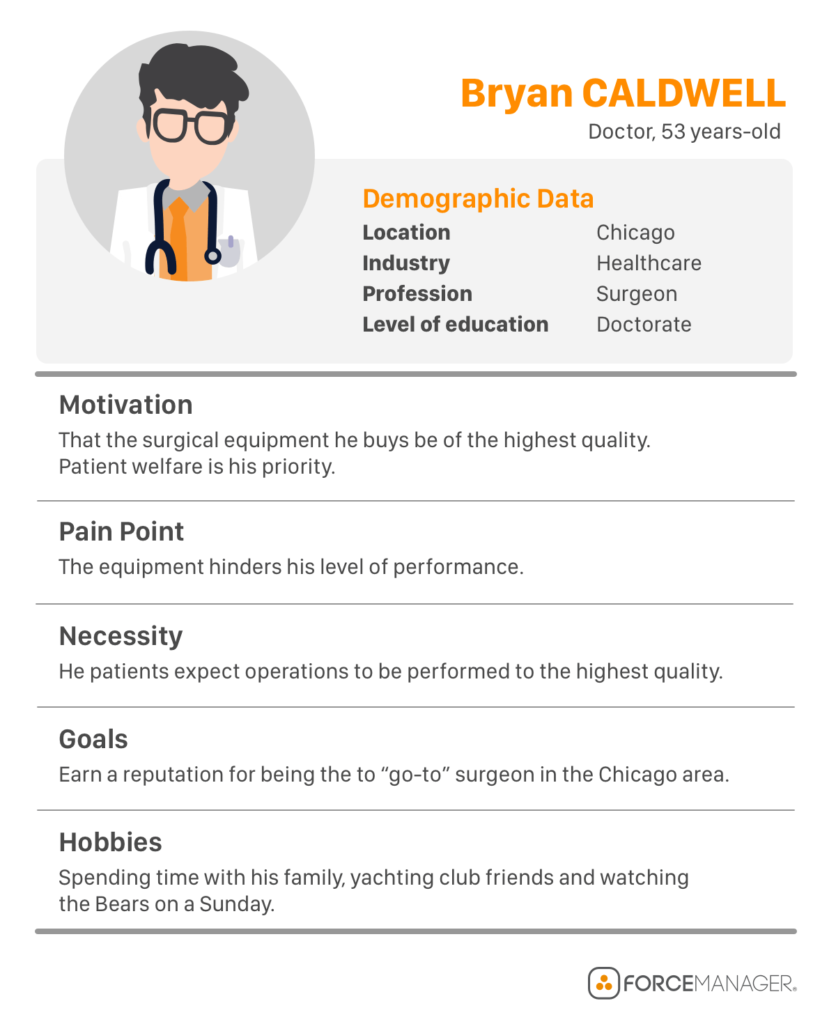 Product training works best when it focuses on a customer's needs and pain points, and teaching your field sales team how to engage prospects based around solutions.
Individual sales coaching
The second strategy for improving sales productivity (sales effectiveness) I want you take a look at is individual coaching.
I would argue that this is the single most important function of a sales executive; it's where you can have the greatest impact on the performance of your sales team.
Now I'm sure you've probably been through dozens of selling skills training seminars that focused on 10 Killer Email Openers or 100 Ways to Shut Down Objections.
While these "hacks" might have their place (somewhere) in a sales coaching strategy, I think it's much better to focus on methodology and then combine it with your specific sales processes.
Most of the tried and tested methodologies out there such as SPIN Selling or the BANT method are backed by years of research and proven in millions of dollars of generated revenue.
To apply your chosen methodology, you're going to have to first identify a field rep's weak point within your working sales process.
Let me show you exactly what I mean by looking at a typical territory management process:

As you can see, this process is broken down into four steps:
Identification

: Determining a prospects suitability by age, gender, role salary, industry etc.

Prioritization

: Ordering selected prospects by whom should be contacted first.

Call Frequency

: The given number of visits a rep is required to make.

Execution

: Executing on the three previous steps.
In order to understand exactly where a sales rep needs specific coaching, you're going to have turn to your weekly sales report. It will give you the granularity required to locate their specific weak points.
For example, your report may indicate that one of your team member's has a high number of face-to-face visits, yet their execution numbers (or total revenue figures) are extremely low.
This would seem to indicate that they are spending too much time with unqualified prospects.
So, looking at our territory management sales process, we can then investigate further to determine whether this individual is either identifying the wrong type of prospects or is prioritizing too many low priority targets.
Then, once that has been determined, you can that step-in, assist, and offer support where it's needed. If you're stuck for inspiration, take a quick look at this list of sales training topics to get the gears turning.
Time management
After identifying the strategies for improving sales productivity that focus on effectiveness, it's now time to look at speed.
The most obvious place to start is with your team's time management.
It's your job as sales director to ensure your team are maximizing the amount of time spent on sales-driving activities.
Now, for field sales reps these tasks are:
Prospecting

Sales visits

Sales calls

Time spent in visit preparation
What it does not include are:
Admin

Managing information

Time spent traveling to and from sales visits
Now improving time management is an extensive, in-depth topic which I couldn't possibly do justice within this post alone, which is why we put together an eBook (which you can download here) dedicated to the topic.
However, for those who want a quick overview there are two root causes for poor time management:
Poor, personal time management on behalf of the sales rep

System imposed obligations
To understand how your team's time is being spent, I recommend you complete a "time survey," including questions such as:
Time spent travelling between sales visits

Internal team meetings

On the phone with customers

Face-to-face time with customers

Updating the CRM

Administrative tasks

Reviewing their sales pipeline

Prospecting
Again, there are numerous questions you could ask specific to your sales process (this is a just a general list I've put together).
Though it's important to make clear to your sales team that the survey is not about rooting out the "slackers" within the team, but more about identifying trends as a whole.
For example, If you discover that on average, only 40% of your team's time is dedicated to sales-driving activities then you know there's a serious problem that needs addressing!
Setting sales goals
The final strategy for improving sales productivity I want to talk about is setting goals for sales reps.
I think it is a seriously underused strategy for squeezing that extra 15-20% from your field sales team. Giving them something tangible to aim at (with an incentive attached) can have a huge impact on sales efficiency.
Before looking at exactly what goals to set, I want to introduce you a to a tried and tested formula known as the SMART strategy. It essentially dictates that all sales goals should be:
Specific – can be quantitatively defined or attributed to a specific revenue target
Measurable – can be measured to determine success
Achievable – the goals set must be realistic
Relevant – is the goal tied to an actual business objective?
Time – does the sales goal have a deadline attached?
When setting your sales goals, make sure to refer back to the SMART module and go through each step, one by one, to ensure it passes through the 5 stages with flying colors.
Now let's look at how to set a sales goal.
The first thing you need to keep in mind is your end goal. What is the one desired outcome, objective or result you'd like to achieve by the end of the quarter?
That could be anything from:
Increasing share of wallet

Increasing revenue

Generating more business from existing accounts
Once you've settled on an "end goal"  it's time to think about all the sales objectives that need to be achieved in order for you to reach that goal and the related sales activities to carried out by individual reps.
For example, imagine our end goal is to increase revenue from new business by 10%. To reach this end goal we will need to increase our client base by 5% and in order to that, reps must increase sales visits to prospects by 20%.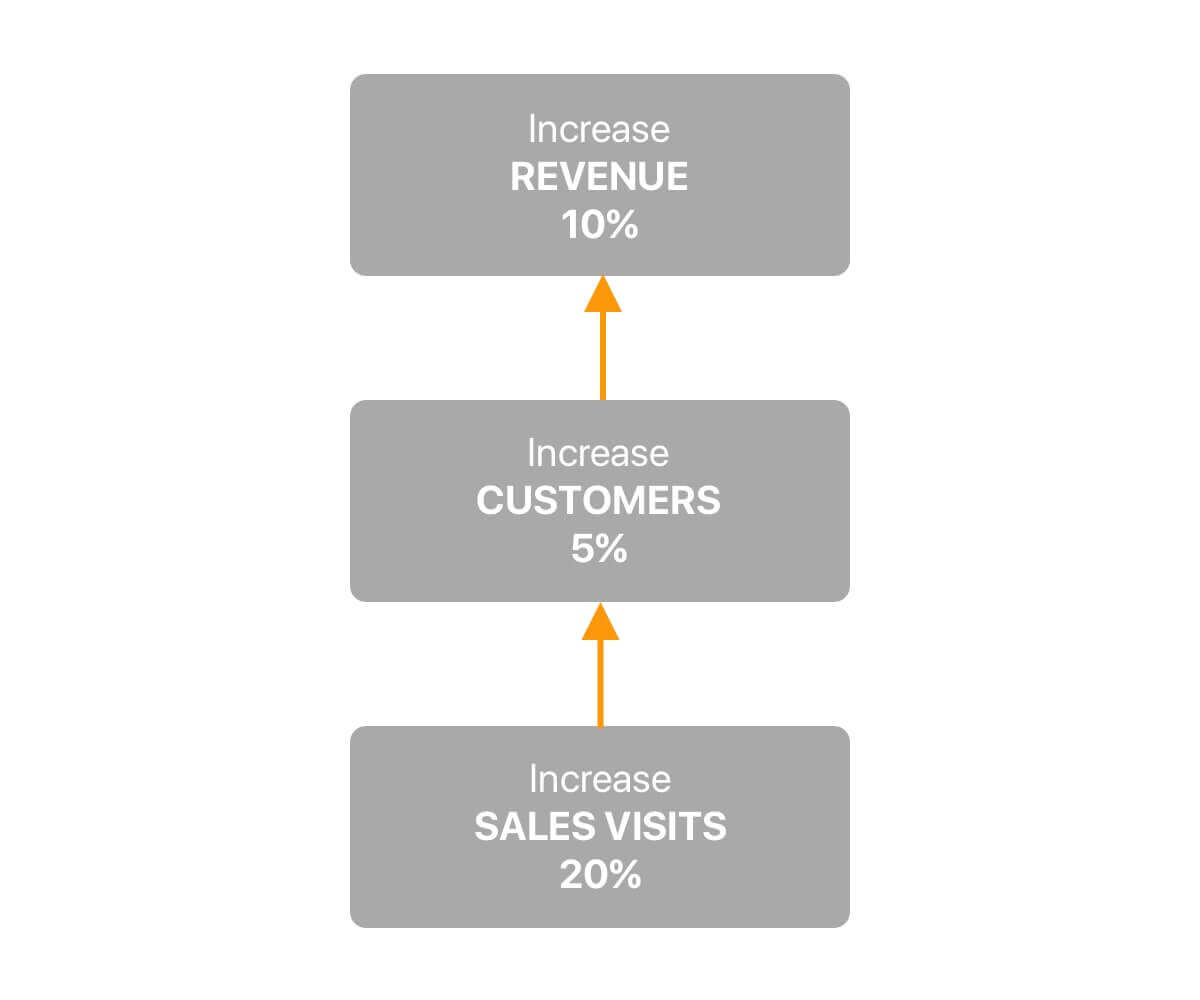 As you can see, by setting a SMART target of increasing visits by 20%, we not only ensure the goal is measurable, but can be tied back to performance and sales coaching, but directly influence your intended sales objective.
More importantly they are broken down into manageable, tangible, bite-size pieces that your field sales reps can go tearing after to help achieve your business objectives.
Sale productivity tools to consider
Over the past few years the business world has undergone an unprecedented digital upheaval.
There's now technology available for HR teams to help manage their staff, finance to manage their budgets and sales directors to optimize their sales forecasting process.
However, despite this digital transformation life has improved little for field sales reps. Instead technology has done nothing but create additional admin work, reduced their time in front of customers and from sales-driving activities in general.
In fact, it has proved so ineffective that many field reps have abandoned these systems altogether.
So, should sales directors abandon their digital transformation campaigns altogether? Should they revert to pen and paper and the trusty spreadsheet?
Absolutely not.
Sales technology boasts an overwhelming opportunity for managers to increase both sales efficiency and sales effectiveness; it just has to employed correctly.
Personal Sales Assistant Applications
Field sales directors need to start viewing sales technology from a field rep's perspective and ask themselves, why aren't these systems being adopted? Why do I constantly suffer from adoption rates below 50%?  Why do I have no real-time data to base my decisions on?  
The answer, you'll likely find, is that the traditional systems you're using are over complicated and almost impossible to use from a mobile device. They create additional work for reps who just to get on and start selling!
That's why the next generation of mobile CRM software is being positioned more as a personal sales assistant than traditional management software.
For example, not only do they calculate the quickest routes to take between sales visits, but also offer advice to reps before a sales visit, recommending certain products to up-sell or potential cross-sell opportunities based on the analysis of thousands of real-time data points.
Combine this level of intuitive feedback with a smooth, easy to use interface and they will start using it.
What does that mean for you, as a sales manager?
More accurate

, real-time data entered into your CRM

Make informed,

tactical decisions

with that data

Able to pinpoint weak areas for extra

sales coaching

Greater visibility over the health of your

sales pipeline

Reduce your overall

sales cycle

So, in conclusion, is sales productivity important?
The simple answer is yes. If you can increase your team's effectiveness through individual rep coaching and efficiency via better time management and personal sales assistant technology, they'll produce a greater output with the same level of resources…tell me which sales director wouldn't want that?
About the Author

Luke White
Luke is the Sales Director and Partner Manager for ForceManager UK and South Africa