A sales management process, like any other process, is simply a set of steps or workflows we follow in order to get something done.
If followed, these processes (when set up correctly) highlight the most effective, efficient and productive pathway to achieving our goals. That's why setting an effective sales management process is considered one of the key attributes of a good sales manager.
That being said, processes can present sales directors with a bit of a paradox.
Many have endured inefficient, time-consuming processes that hampered their performance and actually yielded poorer results.
What's more, having been forced to obediently comply "to the letter," their ability to maneuver back and forth around a deal was stifled – something, that if avoided, may have resulted in its successful closure.
This experience, therefore, naturally makes many managers wary and raises some serious doubts about their implementation.
So, what should they do? Abandon the idea of processes and let their team figure out by themselves?
Definitely not.
But they should start to view processes as a set of flexible guidelines rather than rigid doctrine to be followed. And, if they aren't being followed, investigate the reason why.
Perhaps the process needs revising? Maybe it is outdated and no longer reflects the "best practice" for achieving its goals?
What is a sales management process?
It's important to know that there are various processes in sales. You've got a sales forecasting process, data entry management process, budgeting, sales recruitment, performance review/evaluation etc.
They are all necessary workflows that ensure the sales organization runs a smoothly as possible.
But the sales management process is the one that:
Maximizes opportunity conversion rate

Reduces sales cycle

Increases deal size/value margin
It is a stable framework or series of performance-driving sales activities based on your organization's best track record of closing deals.
There are four main types of sales management process:
Territory

(improving efficiency over a given area/territory)

Opportunity

(increasing effectiveness for individual deals)

Call

(planning individual customer interactions)

Account

(maximizing long-term value from existing clients)
Depending on the type of organization you work for, you may have one or all of these sales management processes in place.
If you work heavily in field-based sales, then you'll need effective territory and account management processes – if it's more inside sales, then a call and opportunity management process would be more applicable.
Is the sale management process important?
In short, yes.
I think most sales managers would agree that they need some sort of model for measuring sales activities against a rep's individual performance.
The problem is sales manager reports might contain a ton of relevant data but without a clear, coherent system with which to put it in it's difficult to know what do with it.
A sales management process provides managers with that system.
It helps them to maintain a level of control, predictability (forecasting) and scalability. It reduces the sales cycle, increase sales efficiency, effectiveness and sales productivity.
Without it, sales directors have zero visibility into their team's activities and even less control over managing them.
Sales Management Process for Existing Accounts
The most common sales management processes you will come across online are often developed for opportunity and territory management – probably because they are (fairly) straightforward to put together:
You gather information from a prospect, you qualify them, develop a sales strategy and then execute it.
I know this is a horrendously simplified version of things, but that's essentially the general idea.
When it comes to account management, however, the process isn't quite so simple.
To reap the rewards of an effective sales management process you not only need to align your goals with those of your clients but develop a plan that creates mutual value.
This obviously takes a lot more time and planning hence their sparsity…but seriously, it's crazy to completely overlook it; there are so many benefits of customer retention over acquisition that we even wrote a blog post dedicated to the subject!
That's why I've gone ahead and put together a sales management process model specifically for maintaining those existing customers.
Sales Management Process Model: Customer Retention
If your company generates a high percentage of its revenue from existing customers then you are definitely going to want consider the following sales management model proposed by sales experts Jason Jordan and Michelle Vazzana in Cracking the Sales Management Code.
Assess Customer Needs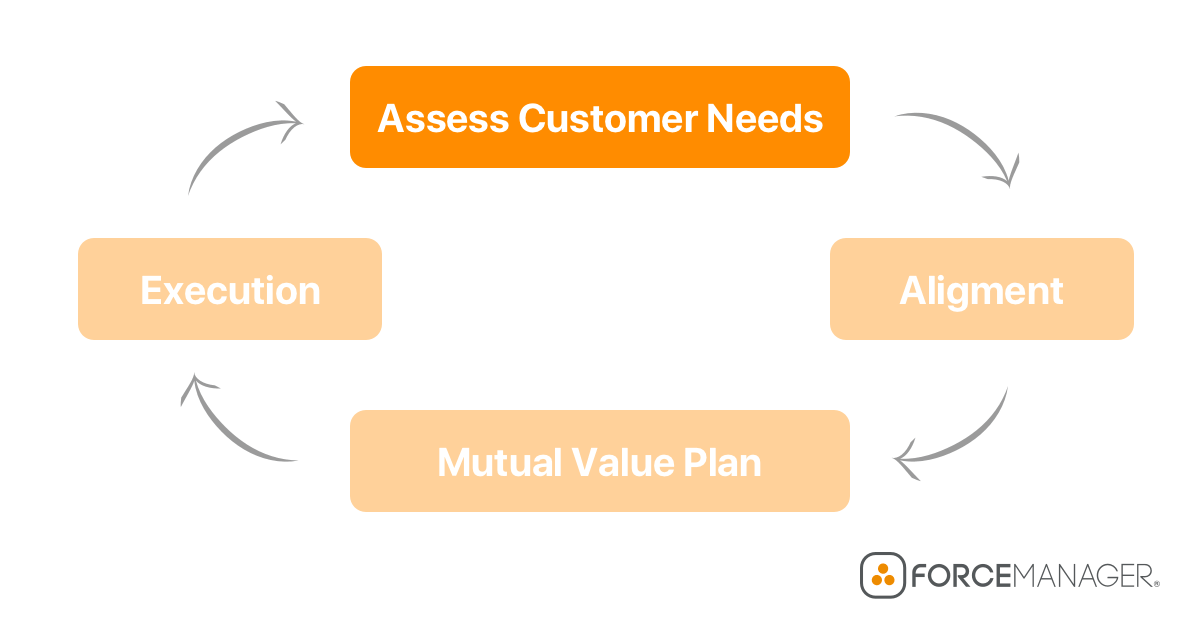 The first step in the sales management process is to determine your customer's needs.
If you can determine both your clients long-term strategy and short-term objectives then you can not only align your own products and services accordingly, but you could proactively assist in building their overall business strategy.
This of course takes time and a good relationship needs to be established in order to obtain this deep level of trust and understanding between provider and customer.
But, when you do, you'll be able to bring fresh ideas to the table that genuinely help solve a customer's problem.
Alignment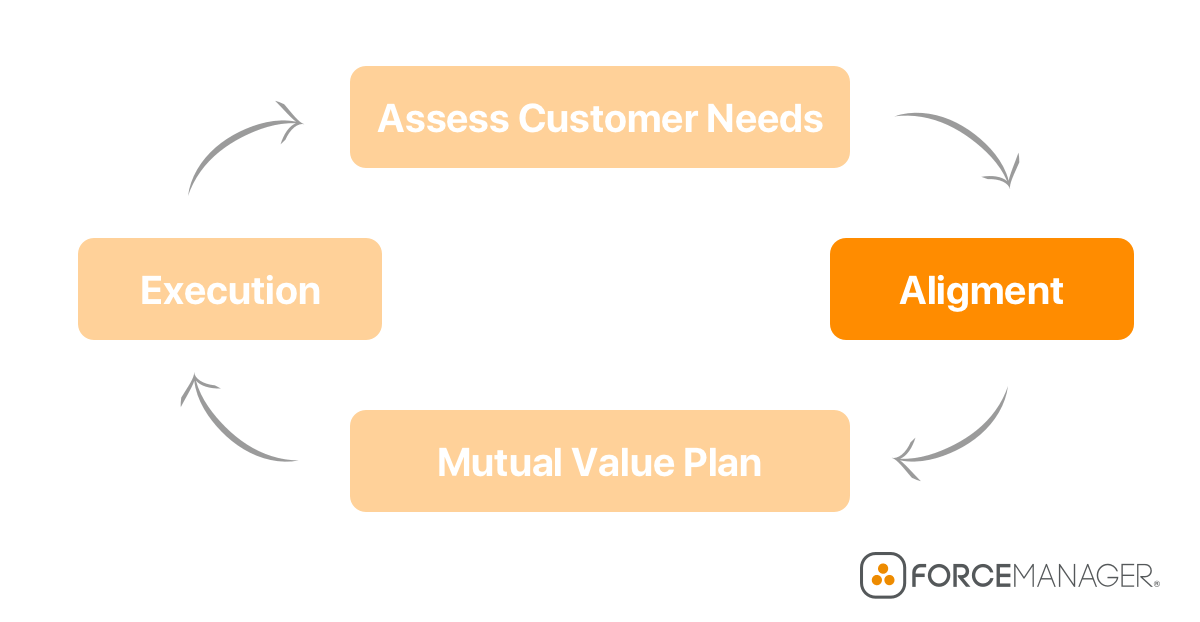 Once a solid relationship is founded and the client's needs fully understood, it's time to locate that sweet spot where it overlaps or aligns with your own business objectives.
Now you will obviously have your own agenda; maybe rolling out a new product line, expanding into other areas of the client's business, increasing the number of users to be on-boarded etc.
However, before you fire away at your customer with these new proposals stop and think about how it supports what they are trying to achieve.
For example, imagine you are a manufacturing or wholesales director for a roofing company and you've just secured a contract for a new 100-build plot with a construction firm.
One of your sales objectives is to secure more business from the upper part of your sales territory and, as it turns out, your client is trying to do the same thing.
You could therefore leverage your contacts in the region and help both you and your client achieve your objectives.
Mutual Value Plan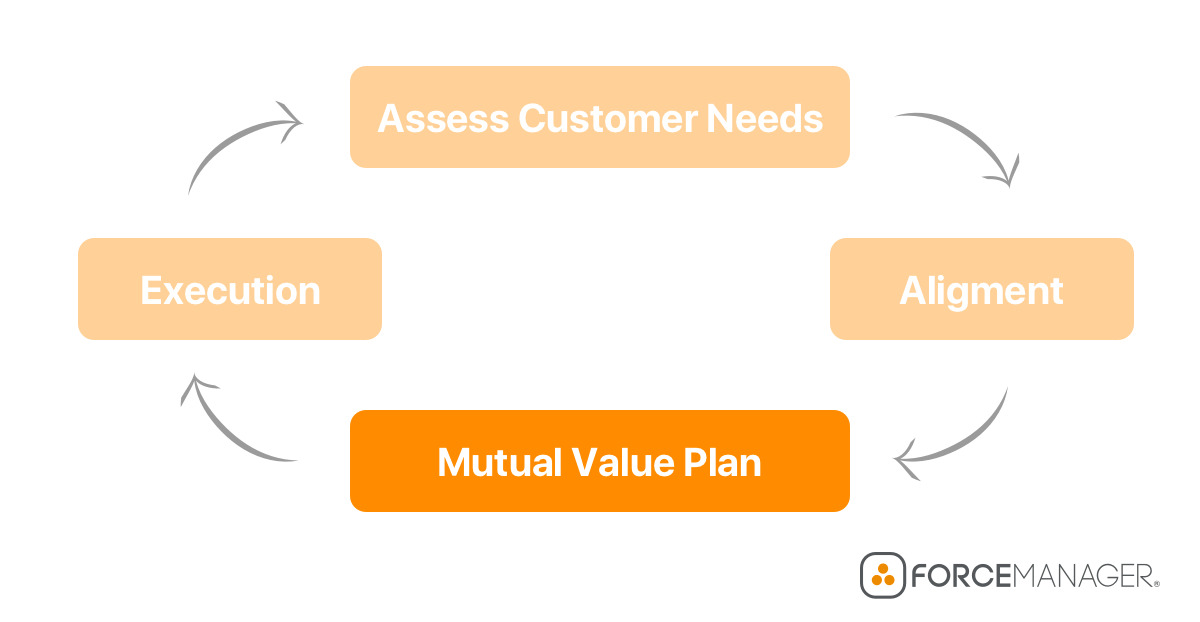 The next step in the sales management process is to develop an account plan that outlines not just the objectives, but the key stakeholders (from both sides) too.
This step is normally led by the sales representative handling the account with the inclusion of yourself and any other operational staff who are involved with the upsell or cross-sell of additional products/services.
Depending on your particular sales management process, you might also need to involve external partners at this stage who offer additional services, maybe in the form of a "deal package," but essentially it's anyone who is required for you to achieve your overall objectives for the account.
Here is an example of an account plan template: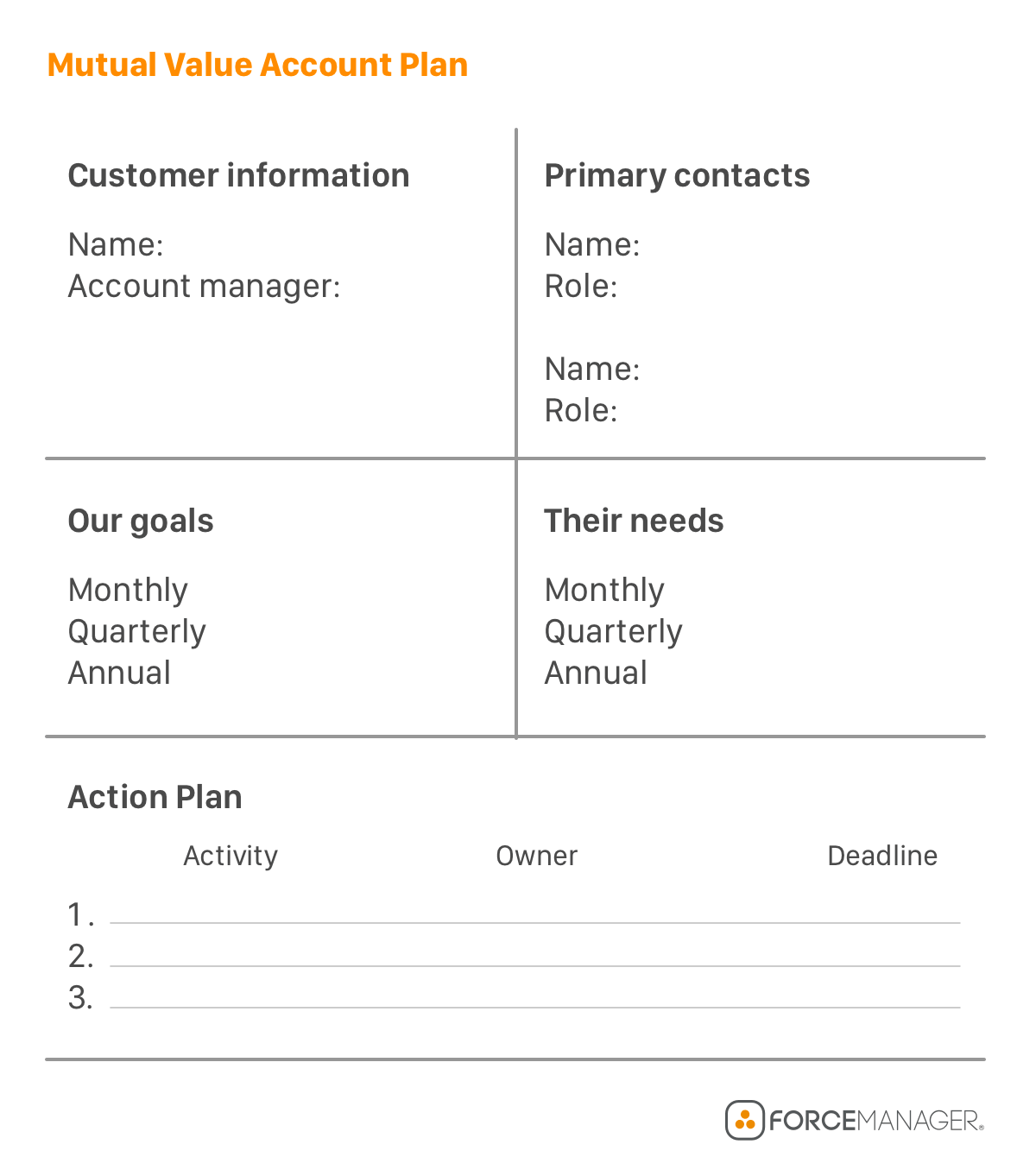 When constructing your account plan think about answering some of the following questions:
What are your business objectives?

What are the customer's business objectives?

How can we help them achieve these goals?

What is our long-term goal for this account?

Who are they key stakeholders involved with the account?

What are the 30,60 and 90 day goals?
As with any sales management process, it needs to be customized and specific to your particular situation and sales cycle.
Remember, keep in mind that the overall objective of this exercise to is to build a structured process of account objectives and understanding how you are going to achieve them.
Execution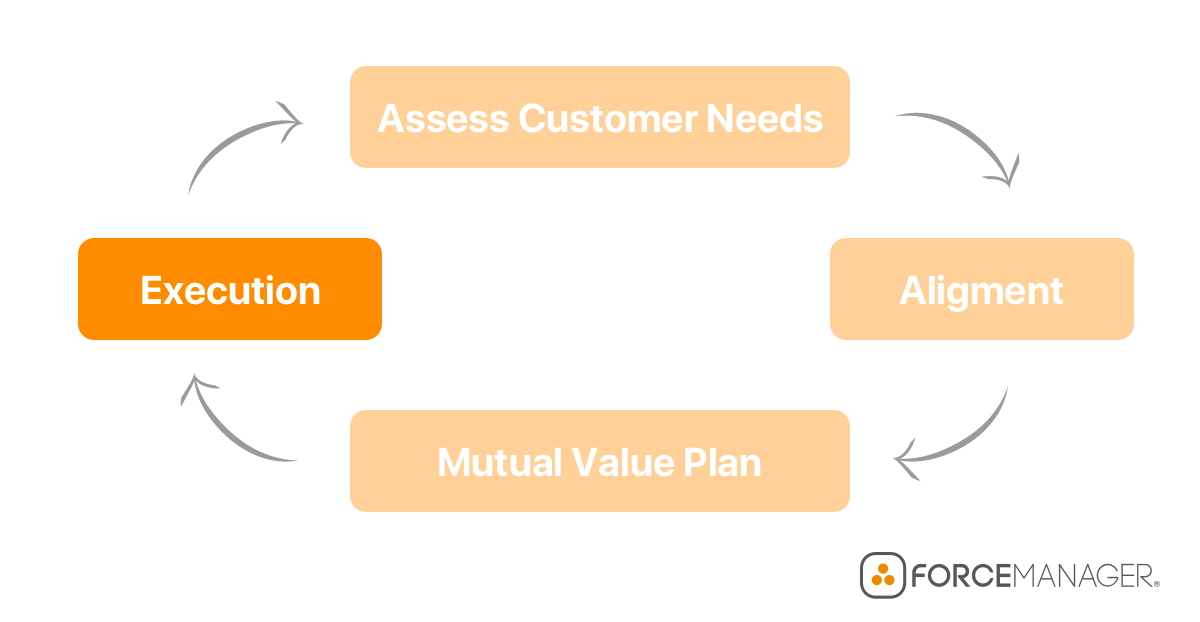 The final step of the sales management process is to make sure the account plan is executed upon.
No because this typically involves so many different stakeholders, the sales representative or account owner tales on the role of quarterback.
They are responsible for the coordination and movement of players around the field, ensuring each defender is picked up, that each defensive adjustment is accounted for.
And, as the sales manager, it's your job to make sure they've got the necessary tools and skills to get the job done.
Sales Management Process and Coaching With Sales Reports
Do you remember earlier we talked about the data lying dormant in your weekly sales reports?
Well now it's time to put it to use.
With your action plan now completed you should have a list of sales activities for your account managers to complete in order to achieve the agreed upon objectives.
Now, what you'll need to do is set up a custom sales report that only includes data related to those specific activities.
Why? Because it makes no sense measuring your team's performance against activities that don't drive the sales objectives and it saves you time crawling through hundreds of reports…
For example, imagine your desired business result for EOY is to increase account revenue by 25%.
To achieve this, you set a sales objective of at least 5 service upsells per account.
And the sales activities that directly affect this business objective you decide are:
Selection of relevant accounts

Number of accounts approached

Number of conversations had around potential upsells

Number of service upsells
Therefore, when compiling your sales report make sure you only include these metrics. This will help keep them accurate, concise and ensure your team stay on point.
Also, it's going to help enormously when it comes to coaching.
As the reports aren't overloaded with irrelevant data, you can immediately detect any problems within the sales management process or within a reps individual performance and step-in to correct it accordingly.
So, in conclusion, an effective sales management process for retaining customers is all about aligning your customers needs with your own, and then developing an action plan to deliver the results. If you achieve that and create long-term value for both you and client, you'll enjoy an extremely successful life as a regional sales manager.
About the Author
Marta Segarra
Marta is the Sales Operations Director at ForceManager, specilaizing in the formation, training and coaching of regional sales teams.