Previously in our post How to be a Good Sales Manager we looked at some of the people skills required when moving into management: setting goals for your field reps, providing hard, yet fair feedback and learning to trust in your team. However, what I've noticed with most salespeople making the jump into management that the true functions of a sales executive, that is to the say the more numerical side of the game, is less understood.
The good news is you don't have to have a degree in data science to understand sales metrics or answer questions such as How to do a sales forecast.
In fact, due to the unpredictable nature of sales you could even argue it's more of an art, than a science.
Though with that being said, the ability to analyze the key sales metrics and ensuring their validity and most of all, accuracy, will always remain one of the most important functions of a sales executive. So let's take a look at how to get started.  
Functions of a Sales Executive
and Getting Your Numbers Right
Focusing on the right metrics
With so many metrics out there to monitor, field sales managers can find themselves spread woefully thin on the ground, like butter spread over too much toast.
And with the overly complex sales reports created by traditional CRM systems it's simply impossible to maintain focus on what really matters, the metrics you really need to be monitoring.
For instance, do you focus more on revenue? Or conversion rates, they're important too, right? Volume of sales visits? That could be a good indicator of how the market is moving. Or do we just need to focus on profit?
As you can see, the list is endless (this being just a handful of metrics to analyze) potentially causing a great deal of frustration, confusion and many a sleepless night for the unacquainted field sales manager.
So what I'd like to propose to you is a method I first came across in Jason Jordan's book Cracking the Sales Management Code.
It focuses on keeping things very, very simple.
So simple, in fact, that I just want you to focus on analyzing the three following metrics:
Sales Activities

Sales Objectives

Business Results
Think of them as three connected blocks of a sales metrics pyramid:
Sales activities lead towards completing sales objectives.

Sales objectives lead to business results.
Business results to happy sales manager.
And what I'd like you to do is start from the top of the pyramid, that is to say, with your business results, as you should always begin with the endgame in mind.
Now these results are what you, the field sales manager, will be measured against. They are decided above our pay grade and conveniently handed down from the powers that be, typically in the form of some kind of revenue figure, such as MRR (monthly recurring revenue).
It' the role of an area sales manager to choose the objectives that will lead to obtaining these business results. As your business results are typically revenue, some sales objectives might be:
Acquiring new business

Increasing market share

Improving share of wallet
Of course the objectives you select here should directly affect change, or lead to the achievement of your particular business result. The key thing to remember here, and perhaps one of the most important functions of a sales executive is selecting the easiest or most effective / efficient way by choosing those objectives that have the greatest chance of success.
Now you must undergo the same process as you did for your sales objectives, but for sales activities. So if you chose acquiring new business as an one of your sales objectives, then boosting the numbers of prospects called would be a corresponding activity.
Likewise, If one of your sales objectives is to increase overall market share, then looking at some previously untapped potential in let's say the SMB (small to medium size business) market or perhaps Enterprise sized could be an option.
You should end up with a metrics pyramid resembling something like this: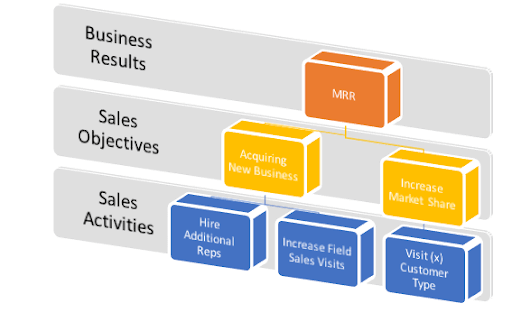 Now that we've decided on our chain of events, it's time to add some hard numbers to each of our objectives in order to effectively measure your team's performance.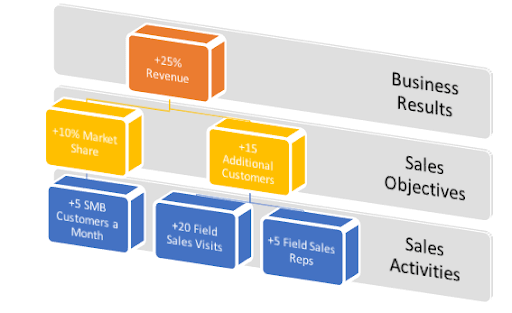 So as you can see in the illustration above, by applying numbers to your chain of process, you can accurately analyze the important metrics you need in order to hit your targets. There's no time lost focusing on data that doesn't directly affect the outcome of your business results and effective time management is one of the lost arts of field sales management.
And also for those field sales managers overwhelmed by data, this method let's you see the wood from the trees, so to speak. Breaking down and narrowing your analysis to metrics that only affect what you will be measured on makes life a lot, lot more simpler.
Functions of a Sales Executive
: Data accuracy
Have you ever come across the acronym GIGO?
Garbage In, Garbage Out.
It's a common IT term that essentially means if you feed your computer system crap data (out of date, incomplete, error strewn) then it will spit out, in kind return, a bunch of crap sales reports and garbage predictions.
For those field sales managers trying to accurately assess sales performance and even forecast and predict revenue for the upcoming quarter, crap reports are going to make life very difficult for you.
So what can you do about it?
One way to ensure data accuracy when running a field sales team is to consider adopting a mobile CRM. Because your sales guys are entering live data, in real time it's often fresher and richer in detail.
Let's take a look at an example of two field sales reps selling bathroom and kitchen appliances.
Field rep (A) has the help of a mobile CRM.

Field rep (B) will be using his notepad (pen and paper).
Both reps have 3 visits scheduled for the day in their calendars.
The first visit, a short 20-minute drive from home is a regular client check-up and re-order. They want the same number of units as the past 3 months with a possible increase in the near future due to a seasonal product promotion.
Rep (A)

quickly updates the CRM via smartphone with the number of units ordered as well as an additional note alerting the manager to the seasonal release.

Rep (B)

jots down the exact number of units ordered in his notepad and makes a

mental note

of the seasonal release.
The second visit was a little more complicated.
Two of the units delivered in the previous order not only arrived late, but were malfunctioning. They needed to be sent back to HQ to be fixed and either returned, or 2 additional new units sent to the customer.
On top of this, they wished to proceed with their regular monthly unit order as well 5 additional units each with their own customized size specifications.
Rep (A)

updates all the info

immediately

into the CRM. The sales manager and customer service team are notified of the faulty product and the exact measurements for the 5 new units were entered

during the conversation

with the customer.

Rep (B)

isn't able to update the CRM in real time, but does call HQ about the 2 faulty units and standard monthly order. However, by the time he gets back to his car to rush off for the third visit,

he forgets about the 5 additional customized units

.
The third and final visit was a real doozy.
This particular client is looking at opening an additional 3 appliance stores. Each store will require different unit types all of varying size/custom specifications and will be rolled out over the next four months.
They also requested a ramp up in unit deliveries to their current stores. Again, these increases would be phased out over a period of four months.
Rep (A) is able to calmly talk through the store rollouts, specifications and estimated dates with the customer, updating the mobile CRM as he goes along.

Rep (B) jots down the store rollouts in his notepad, mentioning the custom units needed as well as quick note about the ramp up in units needed. As he has no way to update the CRM, he'll be forced to do it at the

end of the week

.
Now I understand these are just three hypothetical sales scenarios that may not be relevant to your specific sales process, but let's use them to compare a mobile CRM app vs. traditional system and see the advantages accurate data analysis has for field sales managers.
So let's recap.
Remember, rep (B) had to make a mental note of what the client wanted in both the first and second visits as well as to update the info at the end of the week. Now why is this bad?
The data could be forgotten about entirely (this is obviously bad).

It could be partly recorded giving you only a partial glimpse into what happened, and what will be required in the future.

If he does remember the information correctly, it will be entered into the system late, probably miscuing the outcome of a quarterly forecast.

The client may receive the

wrong units

, at the

wrong time

or of the

wrong sizes

.

If using pen and paper, client records are at risk at being lost either by accident or when the sales rep leaves the organization.
Are you starting to see some of the potential dangers with inaccurate data collection?
One of the functions of a sales executive is to help your team in closing deals. How can you do that if the data in your CRM is out of date or incomplete?
In conclusion the ability to effectively analyze data comes down to a) focusing on the important data, those metrics that directly affect your business results and b) ensuring what you are looking at is accurate. To make this process even easier for yourself, consider looking at a mobile CRM. You'll find all 5 of those data accuracy problems noted above could be completely avoided as well as being able to customize specific reports analyzing only the specific data blocks you need.
So keep it simple and try not to over complicate things!