Mobile CRM (old)
All the sales information you need on a smart and reliable mobile app
Multi-Device Mobile CRM
A native application for iOS and Android in the language of your choice. Access all the sales information you need on a smart, fast and reliable application built for the mobile-first world we live in.
Activity
ForceManager keeps track of all previous interactions between a customer and your company: sales calls, comments, phone calls, email, queries, concerns etc. It's all there, accessible from a single screen right before entering that crucial meeting. The better prepared you are, the better the meeting – and the higher the sales conversion rate.
What's more, ForceManager's AI-powered, voice-activated personal sales assistant Cognitive can communicate this info, hands-free, to field representatives travelling between visits.
Accounts
Field sales reps work to some of the busiest, deadline-driven schedules out there – moving from one end of the city or state to the other. All this movement makes it extremely difficult to keep track of sales activity, which is why ForceManager automatically shows details of the account being visited based on a rep's position. An intuitive, geolocated mobile CRM that actively assists outside sales reps in the field.
Opportunities
Wherever you go, you'll be carrying your pipeline with you. Manage and update sales funnel activity or check the status of other related deals. Stages and real-time data fields can also be customized to match your unique sales process. Opportunities are geolocated and so can be viewed on a map relative to your current position.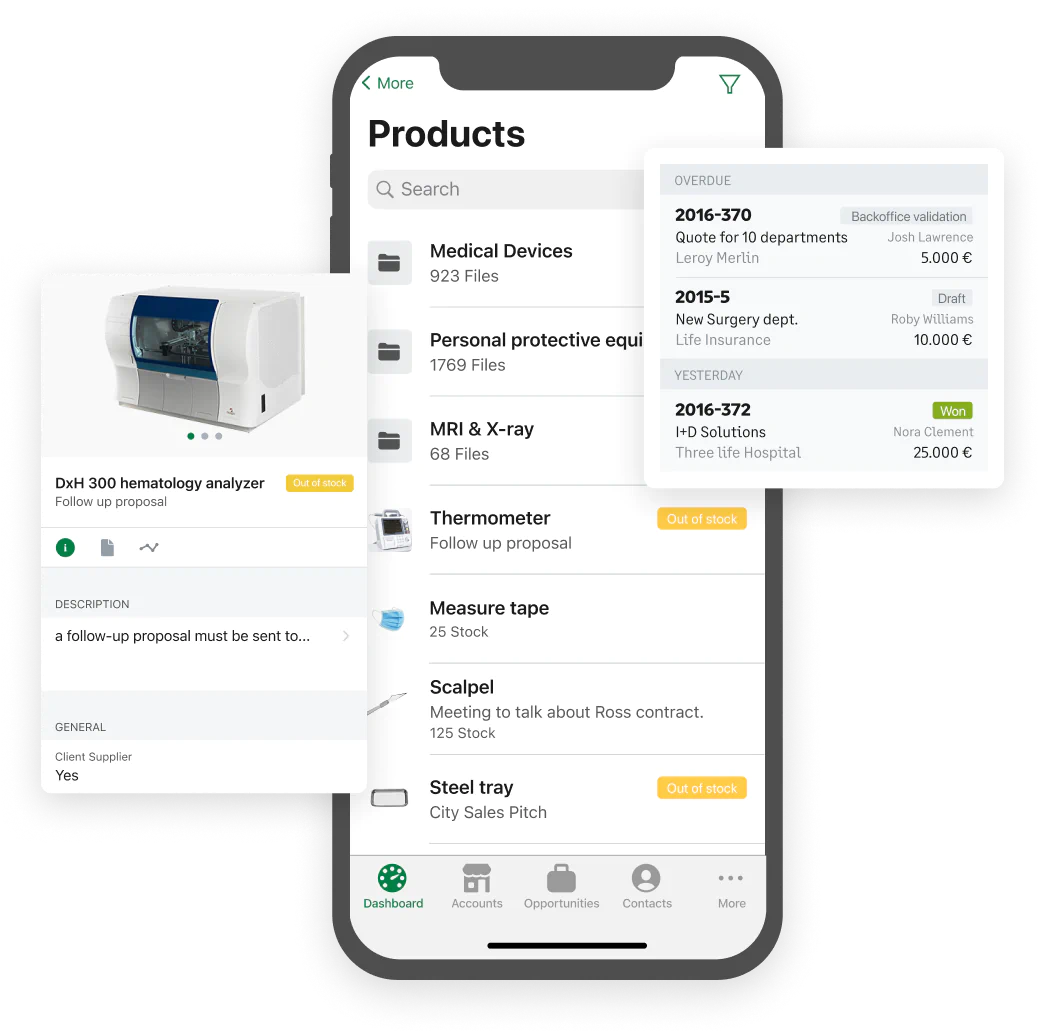 Products and Orders
When closing a deal during a sales call, field sales reps want a system that facilitates the smoothest transaction process as possible. With ForceManager you can select a product, the number of units plus any discount you're offering directly from your mobile CRM. Mobile order taking means having agile processes, reduced administrative costs and making a positive, lasting impression with a client.
Documents
Sales reps have a major influence on your brand image which is why you want a field sales team equipped with modern devices and impressive digital resources. ForceManager includes cloud storage for sales collateral, such as video presentations, brochures, PDF, PowerPoint… upload the content you need to boost your sales quota