How exactly do we achieve digital transformation in sales? What have been the most significant industry changes over the past 5-10 years? Is the digitalization of the sales process important? And what exactly does the future hold for field sales teams?
Luckily we were able to sit down with just the man to help answer some of these questions. Roger Galdon, Head of Technical Consulting at ForceManager, will provide context to the current sales technology landscape, help define some of the key concepts, challenges, and outline the necessary steps to successful digital transformation in sales.
Galdon has over 15 years of experience dividing his time between both engineering and sales teams, helping implement various successful digital transformation sales projects. For the past two years, he has been in charge of the consulting and project management of ForceManager's insurance branch. 
So, without further ado, let's get stuck into the Q&A.
What is digital transformation? And at which stage do we find ourselves now? 
Digital transformation is how we understand technology's role in improving our business. Or, in other words, being able to judge where society's at technologically and then looking at our organization's capacity to onboard these tools to improve performance.
The following graphic, based on Martec's Law, helps us understand the relationship between sales transformation technology and an organization's rigid structure.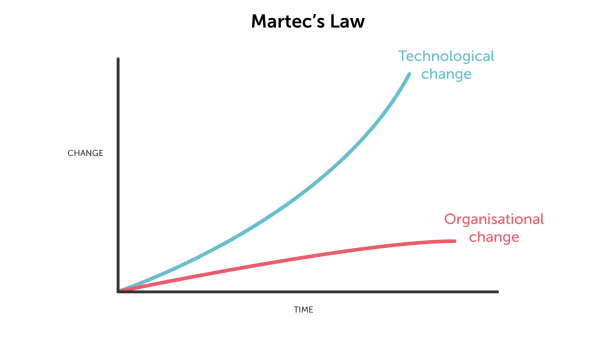 As you can see, the sharply rising blue curve at the top of the graph represents technological change. Although difficult to quantify, it's hard to ignore the speed at which technology has changed in our lives, something we would categorize as faster than steady, linear growth.
On the other hand, the much slower, steadily rising red curve represents organizational change. 
The reason behind its gradually decreasing lineage is time. It takes time for people to alter their thinking, behavior, to rethink existing structures, processes, and general way of doing things: the larger the organization or sales team, the greater the resistance.
Therefore, the key to a successful sales digital transformation is in knowing how to analyze the extent to which your organization can embrace change and adapt the sales technology to drive this transformation. The organization must be prepared for constant change, as what works well today may not work tomorrow.
Look at the music industry, for example. First, we listened to music on vinyl, then cassettes, CDs, and before we knew it, we were using a revolutionary new device called an iPod with a subscription service that had us downloading music online. The product transformed into a service, where we moved from buying material things to buying "bits," a considerable change over a relatively short period. 
What is the difference between digital transformation and digitization?
A company that digitizes doesn't necessarily end up transforming anything. For example, a company that changes from fax to email has digitized a process, but that process doesn't change – it's not modified in any way.
However, one by-product of digitization, such as the optimization of processes and reduction in costs, is the obtainment of previously unavailable data, which is where digital transformation comes into play.
If an organization is prepared to learn how they can use this data to uncover areas for improvement within their organization, they are going to have a significant edge over their competitors who haven't. 
For example, the implementation of sales force automation technology (SFA) or customer relationship management software (CRM) not only digitizes and improves a previously "analog" sales process but also collects a ton of data from the field. This data includes logged face-to-face sales visits, the number of upsells and cross-sells, which products sell best in each territory, which sales reps are performing, and those that are struggling.
Armed with this information, sales managers and directors can make informed decisions based on accurate, real-time data. Now some of these decisions might require the restructuring of specific processes, sales territories, and even how the organization views its customer base.
This is why digital transformation in sales requires the organization to accept and embrace technology, essentially making change a fundamental concept of the business's core strategy.
What is sales digital transformation in sales?
To truly understand the sales digital transformation, we have to go back to the recent economic crisis of 08', 09'.
Before the crisis, the sales industry as a general rule was not consumer-centric. The goal was to sell more and at any price. A client's or consumer's actual needs were a distant echo in the background, a bit like when your mom called you off the playing field because dinner was served; you heard her faint calls but carried on playing regardless.
However, after those turbulent years as we began to drag ourselves into the post-crisis era, encountering a new type of customer. One much more informed, more demanding, less faithful, and completely wired to the internet. 
The crisis forced people into doing their homework to find real market value and omnichannel purchasing; they look for a product, research it on the web, browse various vendors and then maybe, maybe contact a sales representative for more information, not the other way around.
Society's use of technology combined with extreme financial pressure had, therefore, entirely transformed not only the sales process but how businesses communicate with their customers. 
This is also true with B2B sales. Faced with this new 'panorama' sales reps have to offer a much more advisory role. 
They must learn how to use technology to quickly respond to customers over digital channels while adding insights for a more personalized, customer-oriented experience that moves the sales process forward. Once their particular pain points are uncovered then, and only then, can they step in and truly offer them value with the right product or service.
Can you give us an example of a successful sales transformation project?
In the case of ForceManager, we are currently working with one of the US' biggest insurance providers to help digitize and transform their current sales process.
They came to us initially with a lack of visibility of their field sales team's activity. It soon transpired that their field agents and brokers used Excel to document their sales reports. These reports would then, in theory, be sent over to the respective territory managers at the end of the week.
However, this didn't always happen, and if it did, they were hashed together at the last minute. This left sales managers and directors with:
No visibility of sales activity during the week.

Reports siloed with different territory managers.

No centralized database.

No insight into customer satisfaction.

An inefficient and expensive sales process.
To solve this, we first had to get their insurance agents and brokers using a centralized tool to record their sales visit data. Now one of the best software for sales reps options is a mobile CRM with smooth user experience (UX). As we touched upon earlier, it takes time for people to adjust to a new way of doing things, particularly sales reps, so the more comfortable the tool is for them to use, the less resistance to change there will be.          
With the field agents now uploading data in real-time straight after their visits, it only gives sales directors a quick overview of their team's activity, but also means:
Agents no longer have to compile data in spreadsheets.

Breaks down team silos.

Centralizes sales data into one, easily accessible system.

Pinpoint areas for cross-selling and upselling.

Identify an agent's and broker's weak points. 

Closer alignment between agents and the customer journey.
The challenge now facing our client is how to manage the structural change required to take full advantage of this data. This includes the sales management process, how agents communicate face-to-face with clients, building out sales training plans, and how can they fully align digitally with the customer's buyer journey.
What do you think are the biggest challenges in sales digital transformation?
There are several inhibiting factors when it comes to a successful digital transformation in sales practices. First, the business has to be clear about their overall strategy. What is it you expect from this transformation process, and why are you putting in the resources to make it happen?
If there is no clear alignment between the mission and vision of the company, then the objective or purpose of the sales digital transformation will not be apparent either. Consequently, decisions are made on gut feeling and without certainty. Some other challenges facing companies are:
Internal and external customer alignment.

Resistance to change within the organization.

Costs.

Security.

Poor organization infrastructure.
Successful sales transformation is about changing the mentality not just within the sales team, but across all departments within the organization. Let them know the importance of all these new channels, the potential benefits they bring, and provide the appropriate training to maximize their use. All this must be done with a long-term vision in mind.
During this transformation process, it is essential that you listen to the market and customers because there is no one-size-fits-all approach. Sales representatives convey to managers what's happening on the front line, what customers are requesting, and what competitors are doing. Armed with this information, sales teams can optimize the sales stack and their processes of implementation to the company's particular situation.
Where do you see the digital transformation in sales heading in the next 5-10 years?
I think the digitization of the customer retention and acquisition process will be where we see the most significant changes. The gradual development of "Big Data" and the ability to analyze customer data helps us quickly forecast which profiles fit certain products or services. There are already tools that can bring us that sales insight on a fundamental level but look for this to grow exponentially over the next couple of years.
This analysis can also be applied to customer acquisition models. Perfecting the timing and delivery of information, as well as the quality of content we are putting out there, will lead to an increase in qualified leads entering the sales funnel. More leads, more potential sales!
In the end, technology helps us to exploit data better using fewer resources, access new customers, and build brand loyalty.
Thank you very much for your time, Roger.
About the Author
Jordi Capdevila
Vice President of Marketing at ForceManager