We organized a roundtable with experts from different companies to discuss the results of our recent report Millennials in Tech, in which we focused on this generation's preferences and motivations at work. Here are the main takeaways from the debate with KOLs Toni Gimeno (Adecco), Sandra Arévalo (Wisar), David Tomás (CyberClick), Helena Torras (B-Wom & Barcelona Tech City), Costanza Vannutelli (Utopicus), Juan Manuel Chicote (DKV), Tiago Santos (Cooltra) and our CEO, Oscar Macia (ForceManager).
What do millennials in tech expect from an employer?
Millennials are a curious, ambitious and committed digital generation, but if not nurtured carefully that passion and devotion can become ephemeral. One of the main challenges for companies today is precisely that: to encourage and maintain such motivation, not only to attract the best talent but also to foster loyalty. To this end, listening to and understanding what millennials expect from an employer is key, together with understanding their ambitions and finding the working that offers professional growth and a good work-life balance.
Money isn't everything
Money can't pay for time: millennials working in the tech industry want jobs with flexible working hours. In fact, over 60% of them would accept a 250€ pay cut per month (3.000€ a year) in exchange for the possibility to find a better work-life balance and organize their time in a more autonomous, independent way.
In the words of Helena Torras, CEO and cofounder of B-Wom and member of the Board of Directors at Barcelona Tech City, "people want to work in startups for the projects they offer, the autonomy and the possibility to make decisions about their daily work".
A working model that allows them to have a work-life balance and time for friends, family and other passions and interests is very important to millennials.
Linked to the idea of money, CEO and cofounder at CyberClick, David Tomás, argued that "it's very important that they feel their salary matches other offers on the market. However, millennials are open to renouncing part of their salary in order to join a dynamic company with a clear mission instead of a rigid business where nothing happens. In fact, they would even quit their jobs without having another option to fall back on because they do not believe in a project or its management".
Even though salary is important and evidently the main reason we work, it is no longer the definitive factor, but rather the opportunity to learn, grow and build confidence.
The challenge is not attracting talent, but rather fostering loyalty
Maintaining open communication with employees, listening and being accessible is essential for building a strong and loyal team and key to stimulating passion, creativity and enthusiasm.
"We must give particular importance to meeting the staff, listening to what they have to say and giving value to their opinion – their feedback is the most valuable to improve as a company and team", Tiago Santos, Chief People Officer at Cooltra added.
When working with millennials, it is very important that they feel valued at work. They no longer expect annual assessments but constant talks with their managers or directors to review their position and continue their development.
Trust and autonomy, a must for millennials
Trust is also an indispensable element when keeping young talent motivated.
Oscar Macia, CEO and cofounder of ForceManager explained that "millennials seek independence, autonomy and confidence. An employer must work on this both when attracting them and after they've joined the company. In order to succeed it is necessary to maintain open and ongoing communication channels in order to build confidence".
It is also fundamental to set goals that the employee considers their own, always keeping in mind that they are helping the company grow towards it's overall objective. David Tomás stressed the concept of belonging and responsibility, adding that "it is essential that millennials, as well as any other employee, don't feel that these goals have been imposed, but rather consider them their own to get the most out of their commitment and involvement with the company".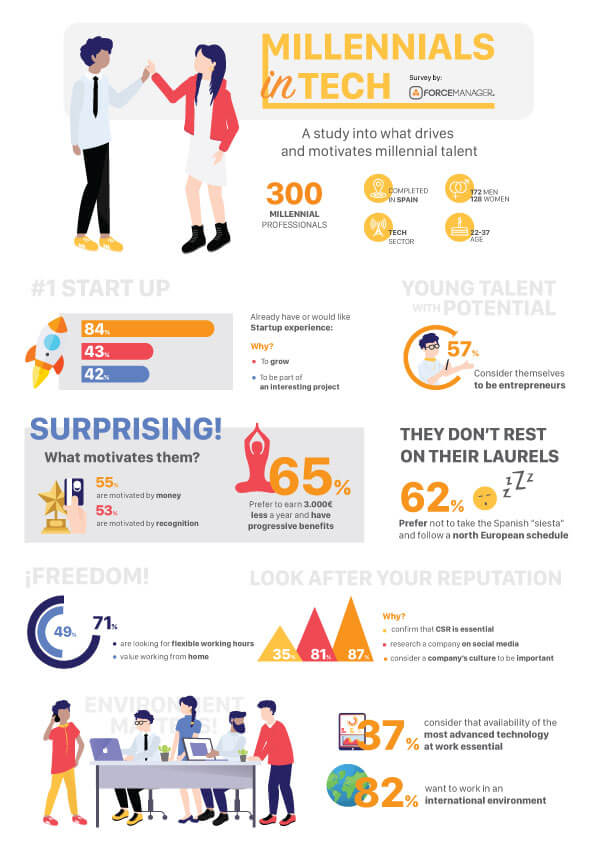 If you, as a startup, want to be competitive in the market, remember to provide your employees with recognition, learning opportunities and flexibility.
ForceManager is one of the companies with the greatest and fastest growth in Spain, having attracted talent from all over the world and growing from 70 to 150 employees in less than a year, and now with 22 new open roles to reach 170 employees by the end of 2018.