After all the positive feedback we received from our Q&A with Marta Segarra on the importance of sales reports, we thought we'd continue with the series, this time focusing on sales team management.
On this occasion we were able to grab ForceManager's VP of Sales, Santi Trenchs, for a quick coffee and interview for some of his insight.
Trenchs has over 20-years' experience in international sales team management and consultancy. With his signatory talent, charisma and leadership skills he started life at ForceManager as the Director of Operations. After 5 years of significantly reducing churn rate and overseeing record customer satisfaction scores, Trenchs combined his sales management experience and client insight to become VP of Sales.
What are the secrets to managing a successful sales team?
Unfortunately there is no silver bullet or magic elixir when it comes to sales team management. That's primarily down to the fact that sales management is all about working with people, and each and every person is different.
That's why successful sales managers adapt their leadership style to fit each individual member of their team. 
If you think about it, you wouldn't approach a sales rep with less than 6 months experience on the job as you would someone who had been working there for a decade. An inexperienced rep wouldn't have had the same training, face time with clients or familiarity with the sales process. As such, dealing with them would require a slightly different approach.
This is why I am a big fan of the situational leadership model. Personally, I think it's the strongest and most consistent model out there.
How does this sales team management model work?
As a sales director you have to be able to look at each member of your team and determine in which quadrant of the situational leadership model best matches their personality/experience levels. The quadrant is split into:
Delegating

Supporting

Coaching

Directing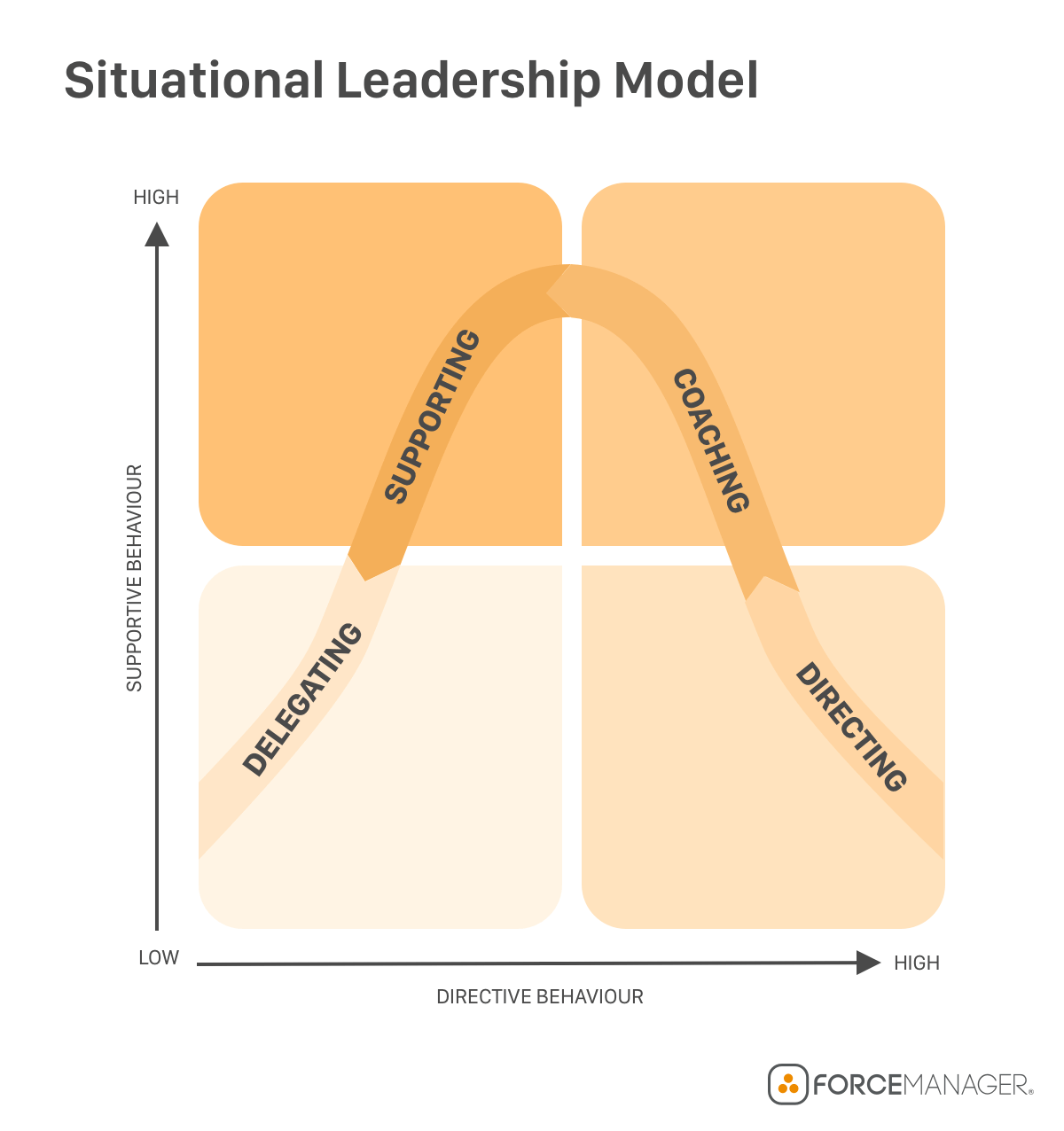 For example, when dealing with an inexperienced sales rep relatively new to the company you will probably need to switch to a more autocratic, directive style of leadership. They will need to be nudged and nurtured in the right direction, set specific targets and shown exactly how they are expected to reach them.
On the other hand when dealing with a highly competent, experienced sales rep you will want to take a more laissez-faire, delegative approach.  
Managers demonstrating delegative sales leadership qualities tend to provide minimal direction for their team, encouraging salespeople to make their own decisions in the field. This allows them to focus more on strategy and perhaps how to attack new verticals/sectors rather than the day-to-day activities of the team.
Whichever quadrant of the sales team management model you decide to go with it's important that it best matches the behavior of the salesperson in question, which for me, personally, is the greatest challenge facing sales directors.
How do you identify which quadrant to use?
By getting to know your team members – it's that simple. Of course that's easier said than done when managing a team of say, over 50 field reps, but there are sales communication tools available that solve that problem.
But yes, speaking with your team members on a regular basis is without the best way to identify which personality traits they exhibit. If you have children, you will know exactly what I mean.
Although they may be educated and brought up in the same environment, it's their personalities which make them unique. I'm sure when speaking to them (or disciplining) you take a slightly different approach from one to the other. Well it's the same with the members of your team. 
At ForceManager we have successfully employed the DISC assessment, which while being heavily focused on sales team management, is very flexible and can be applied to almost any team. 
It allows managers to identify and observe sales rep's behavior. 
DISC is based on 4 different behavioral styles:
Dominance

Compliance

Stability

Influence
If you are able to first, identify your particular behavioral style and then second, the styles of the rest of your team members it will put you will have won half the battle in my opinion. 
For example, if one of your sales reps is very open, emotional and wears their heart on their sleeve then an aggressive, direct approach with your feedback will likely backfire. 
"Paula, I've seen your numbers are down because you're not doing X,Y and Z. This simply isn't good enough and I want to see a turnaround by next week." 
Start a conversation like this and they will either turn around and give you a "what for" or leave feeling extremely deflated at their performance.
Better would be: "Hey Paula, how's everything going? I've just gone through your weekly sales report and wondered if we could book some time in your calendar this Thursday afternoon to discuss?"
By first asking how they are and then permission (on their terms) to set a time to review their report, you are likely to receive a less hostile response and find them to be much more open to feedback.
Moving on to motivation and sales team management, how do you ensure to maintain high levels throughout your team?
Again I think it all comes back to really getting to know your team. Before being able to put a motivational plan in place you have to understand what exactly it is that motivates them. 
This goes beyond financial incentives, which are obviously important to all salespeople but it would be foolish to think this alone is what drives your team. A good work/life balance is becoming increasingly important as well as opportunities for career advancement. 
You won't know exactly what it is without sitting down and having a one-to-one conversation with your sales reps so in my opinion, this is where you should start.
In terms of sales team management and building a cohesiveness and alignment across the team, it's important to organize workshops that mix business theory (processes, strategies, ideas) along with something a little more enjoyable (team building activities).
Kick-off events are perfect for combining the two and I try to organize at least one per quarter.
In March I organized a hiking trip to a castle just off the Spanish Maresme coastline, which was great to take in a spectacular sunrise with a symbolic toast of wine. Once we'd finished breakfast, we started with a series of short presentations and some of the issues we'd face during the quarter. Next, we broke off into smaller teams and devised different plans and strategies on how we could overcome them.  
At the end of the day we presented our ideas and decided on which ones to take forward into the following quarter
It was a great way to:
Generate team spirit

: working together and coming up with solutions with the rest of the team.

New initiatives

: As a sales director you already know the results you are looking for, but with these types of workshops you can make your team feel actively involved in the decision-making process
Finally, when is it best to organize sales coaching sessions?
It's always a good time for sales coaching! But, I would say the most logical would be during your weekly sales meetings.
It is here sales reps share with the team at what stage their opportunities are at, sales numbers, forecasts.. etc. 
Although the sales director must be in charge of the direction of the meeting, it's important to ensure it maintains a forum-like feel where everyone is able to contribute to a healthy discussion. 
Some people may believe this to be counterproductive but personally I find it a great way to again, ensure everybody feels involved in the decision-making process while highlighting potential areas for improvement. 
These can then be discussed in more depth in your one-to-one meetings and a sales coaching plan put in place.
Thanks for your time Santi!